Rubber Paving & Driveway Solution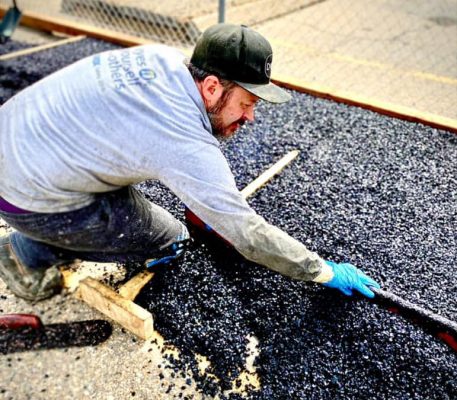 Elite Rubber Paving offers rubber paving services, an eco-friendly and cost-effective alternative to concrete repaving and concrete replacement. Rubber pavement is made from recycled materials and creates an attractive, non-slip, impact-resistant surface for your driveway, patio, walkways, and more. Contact us to learn more about this repaving alternative or to receive a free, no-obligation quote for your project.
What is rubber paving?
Rubber paving is an affordable and attractive way to resurface your cracked exterior concrete and asphalt. You can use rubber paving to resurface your driveway, walkways, patio, pool deck or create slip resistance on decks and rooftop patios. Commercial and municipal uses for rubber paving include pools, playgrounds, stairs, walkways, and sports courts.
Most rubber paving products are made of recycled rubber materials combined with a specific adhesive. The glue holds the rubber granules together and contributes to the rubber's flexible and stable nature. The materials used are also resistant to UV-rays, reducing fading or deterioration from the sun.
Rubber paving will stretch and contract with temperature, soil changes, and changes to the ground underneath caused by erosion, freezing, and thawing. Concrete, however, will crack and pit under the same conditions. In addition, the freeze-thaw cycle will cause concrete to crack and worsen over time. However, rubber paving is essentially unaffected by this process.
Rubber paving comes in a wide range of colours, patterns or designs. It looks fantastic, will boost curb appeal, and last for decades with minimal maintenance.
Get a free estimate!
The best place to start with your concrete resurfacing project is to contact us. We can get a better idea of your specific project and provide a detailed and transparent quote. We will be clear about the cost, details, and process from the start, so you know what to expect.
Our no-obligation estimates are free! Please contact us!
What are the benefits of rubber paving?
Durability: Rubber paving is incredibly durable. It is resistant to many of the weather factors that wear and damage concrete. It doesn't crack or pit like concrete and asphalt. Rubber paving is resistant to UV, can handle heavy vehicles parked on it, and will look new for decades. In addition, most rubber paving products come with a manufacturer's warranty, so you know your investment is covered.
Quick installation: Unlike installing a new concrete driveway, the installation process for rubber paving is fast and convenient. Installers can pour rubber paving right over your existing concrete. That means you won't have to spend time and money removing and disposing of all that concrete. Installing rubber paving on a driveway, patio, or walkways will take a day. Then, it will be fully cured and ready to use within two days. Concrete driveways take much longer to cure.
Stands up to winter: As mentioned, the damaging freezing and thawing we get in Canadian winters have no impact on rubber paving. You can easily clear snow off your rubber paving with snow shovels or snowblowers, and they won't damage the surface. You can even use de-icer products on your rubber paving, as de-icer and salt won't damage the surface.
Attractive and versatile: Rubber paving allows you to get creative with your colour choices. You can choose a natural tone similar to stone, concrete or asphalt. You can also choose from a range of colours like blue, red, green, grey, black, brown, and others! If you want to get creative, you can add a design. Get in touch with Elite Rubber Paving to start designing your exterior surfaces!
Low maintenance: Rubber paving is easy to maintain and repair. Just rinse it off with a pressure washer or garden hose or remove debris with a leaf blower. Though any damage is rare, we can quickly fix it by cutting out the area and applying new rubber paving.